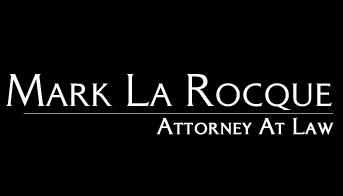 Practice Areas

Automobile Accidents
Brain Injury
Burn Injury
Catastrophic Injuries
Large Truck Accidents
Motorcycle Accidents
Personal Injury
Premises Liability
Spinal Cord Injury
Wrongful Death

Welcome

Attorney Mark La Rocque is a personal injury attorney specializing in automobile accidents, truck accidents, neck and back injuries, motorcyle and bicycle accidents, wrongful death, dog bites, slip and fall accidents, and other types of personal injury cases. We serve all of California and are dedicated to providing our clients with high quality legal services.

To prove our dedication to your case, there are no up-front attorney fees. We pay all your necessary litigation costs on your behalf, and receive a fee plus costs from monies collected on your behalf. All of our fees and the costs associated with pursuing the case are paid from proceeds of the settlement or verdict.

Your rights are important and must be protected in personal injury cases. Don't sign anything without contacting us first. It's our job to ensure your rights are protected and you get what you deserve.

Case Highlights

Pedestrian Hit By Car

Recovery: $500,000

Jogger in his 50's suffered extensive leg injury after being hit by a car.

Rear-End Auto Accident

Recovery: $245,000

An elderly woman suffered extensive neck injury when her vehicle was rear-ended by an automobile.

Broad-Side Auto Accident

Recovery: $100,000

A man in his 30's suffered back injury when his vehicle was broadsided by a negligent driver.

Negligence - Trip and Fall

Recovery: $100,000

A woman in her 40's suffered ankle and knee injury when a faulty handrail caused her to fall down stairs in an apartment complex.